Highlights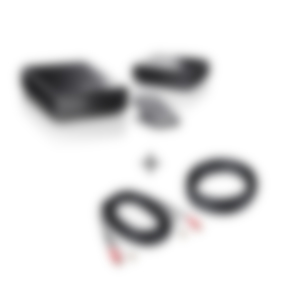 Why we love this product
The Wireless Audio Set makes it possible to send the audio signal to two channels of your choice. The set is perfect for setting up a pair of speakers in a separate room or for wirelessly operating part of a 5.1 home cinema system.
Key advantages at a glance
Set consists of the RearStation 4 (sender + receiver) and all required cables
Sends the signal wirelessly from the AV receiver/amplifier to two loudspeakers
Delivery includes 3 m RCA cable for connecting the RearStation transmitter to the AV receiver
Delivery includes 15 m speaker cable for connecting speakers to the RearStation receiver
80 watt maximum power capacity, can be controlled remotely, perfect for home cinema systems
The set's radio range extends over 20 meters, even through walls
Can be inconspicuously placed thanks to its small dimensions
A Teufel cable with a 1.0 mm² cross sectional area is recommend for multimedia systems and less expensive home cinema systems where only short distances need to be covered.
CCA Wires
The wires within this cable are made from copper-clad aluminium. CCA cables have the same electric conductivity as full copper wires but weigh less, making them easier to work with.
More wire strands per cable
The loudspeaker cable contains an especially high number of strands for extra flexibility and conductivity.
Robust jacket
The extremely robust yet flexible outer jacket protects the high-quality cable inside. The positive pole is indicated.
Connection
The loudspeaker cables can be connected directly to the amplifier/loudspeaker or by means of a banana plug.
Delivery
One loudspeaker cable plus cable ties with Velcro is delivered in separate packaging.
Stereo cinch cable for connecting devices such as amplifier/AV receivers to a CD or record player etc.

Überall Musik
The glossy black styling, easy setup, and the ability to expand the system by adding additional receivers are also high points of this device. Teufel's RearStation 4 wireless amplifier is a cost effective and practical solution for the wireless transmission of music and film sound in a living room. The sound is very good; the user experience is simple and intuitive.
Note: if the AV receiver line out is not via the rear channels, an AC 5011 converter is required.
Super Powered
With 80 watts of maximum output, and a remote control with a 20 metre maximum range, you can enjoy powerful Teufel sound with ease. The RearStation 4 is a terrific wireless solution for anyone who has had enough of cables littering their living room. It wirelessly transmits the audio sigal to the rear speakers without any loss of the detail, while the 2 x 30W amplifiers deliver loud, robust sound.
Complete Wireless Transmission
This set allows for complete wireless audio transmission for adjacent rooms or surround sound speakers without needing to purchase any additional amplifiers/receivers. The RearStation 4 allows you to wirelessly enjoy music in any room easily and in high quality.
Included components
Wireless Stereo
1 × RCA-Cable 3.0 m C7030A – Black
1 × RearStation 4 Mk2 – black - mat

1 × power adapter for RS 4 Mk2 WLR
1 × RS 4 Mk2 WLT Transmitter – black - mat
1 × RS 4 Mk2 WLR Receiver – black - mat
1 × RS 4 RC Remote Control – Black
1 × power adapter for RS 4 Mk2 WLT

1 × 15 m Speaker Cable 1.0mm² - C1015S – Black
Specifications
15 m Speaker Cable 1.0mm² - C1015S

| | |
| --- | --- |
| Cross-section | 1 mm² |
| Cable length | 15 m |
Accessories
All necessary accessories are included in the delivery.