Highlights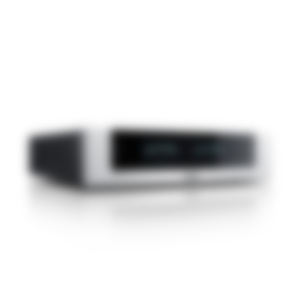 Key advantages at a glance
Ultra compact high-end 8 channel amplifier
Works well together with Teufel's AV/preamps, the DecoderStations 7 and 6
800 watt maximum power for high dynamics and distortion-free, high volumes
The sophisticated amplifier produces a warm sound with fine details
Employs a high-end class D amplifier from Texas Instruments with exemplary audio specs
Construction includes an aluminium front panel, gold-plated connections and large, illuminated VU meter
The new AmpStation proves that you don't need a big amp to enjoy full, room-filling sound. This 8 channel high-end amplifier with compact dimensions is the perfect accompaniment for Teufel stereo and home cinema speakers.
Teufel built 8 individual 100-Watt amplification modules into a small enclosure
measuring just 270 x 65 x 250 mm
for a high-performance amplifier that can also be conveniently placed – or even concealed - in any living room. Most incredibly, the AmpStation's performance can extend even beyond the room it's placed in. Used with a 5.1 setup, the AmpStation can still power an additional pair of stereo speakers in another room.
Based on the newest class D amplification technology from Texas Instruments, the AmpStation boasts impressive technical data. HD audio signals such as
Dolby Digital True HD
and
DTS HD Master
are perfectly processed by the little system.
800 Watts of pure power
The AmpStation works as a pure power amplifier, which can supply up to 8 individual loudspeakers with 100-Watt output power each (at 4 Ohms). That's enough power for the most demanding home cinema and music requirements, even in huge rooms with full-range floor-standing speakers. The nimble little AmpStation reacts promptly to quick changes in volume levels for playback that is finely nuanced and lively. And it knows how to coax the warmest and most realistic sound from your Hi-Fi speakers and surround sound systems. Alternatively, the AmpStation can also fuel a pair of stereo speakers in 5.1 mode, for example in another room.
A top-class digital amplifier
Class-D technology from Texas Instruments (TAS5611) is what makes the AmpStation's extremely powerful performance from such a small enclosure possible. But the AmpStation's sophisticated technology not only ensures high levels: Very low levels of distortion - just 0.03% (THD+N > 1 watt) - and an incredible signal-to-noise ratio (-105 dB) are all part of the package. The AmpStation's frequency range extends from 10 to 40,000 Hz and is highly linear for realistic playback from all kinds of music and soundtracks.
High-quality materials
The AmpStation's workmanship is every bit as premium as the sound it generates. A massive front plate made from aluminium and gold-plated connection sockets aesthetically underpin the device's acoustic performance. The electronics within are situated on a vibration-reducing steel plate.

The AmpStation has the exact same width as the DecoderStation 6 or 7. This makes it easy to stack the two devices for use together.
Looks as good as it sounds
In spite of the AmpStation's cutting-edge technology, there was one old school feature we couldn't resist - analogue VU meters. Both eye-catching meters provide information about the level ratios of the individual channels.
No fans, no noise
The AmpStation's cleverly designed cooling system allows the device to do away with integrated fans – components that not only take up a lot of space, but which also make a good deal of noise. While larger amps and A/V receivers drone away, the compact little Teufel stays cool and quiet – even when pushed to its maximum performance levels. The side ventilation also make it possible to place the AmpStation inside a piece of furniture.
High-quality amplifier
The AmpStation has enough power and high-quality sound technology at its disposal to elevate previous and current Teufel loudspeaker systems to a new acoustic level. Extreme transparency, distortion-free dynamics and authentic playback is what you can expect.
Perfect match
Not least because of the same physical form, the AmpStation is an ideal partner for the DecoderStation 7. Technically, of course, they fit together perfectly, because the power amplifier was deliberately designed by Teufel for exactly this connection. Together they form a wonderful combination: an AV pre-amplifier and high-end AV power amplifier at an unrivalled price.
Included components
AmpStation
1 × Adapter for Ampstation
4 × rubber feet for AmpStation
1 × Teufel-Link 3,5 jack cable for AmpStation
Specifications
| | |
| --- | --- |
| Width | 27 cm |
| Height | 6,5 cm |
| Depth | 25 cm |
| Weight | 2,5 kg |

| | |
| --- | --- |
| Analogue inputs | 8 |
| Cinch input stereo | 4 |
| High level speaker outputs | 8 |

| | |
| --- | --- |
| Display | Yes |
| Power supply voltage | 230 V |
| Maximum power consumption | 800 W |
| Safety class | 2 |
| Standby-Function | Yes |
| Standby-Power consumption | 0,5 W |
Accessories
All necessary accessories are included in the delivery.