Highlights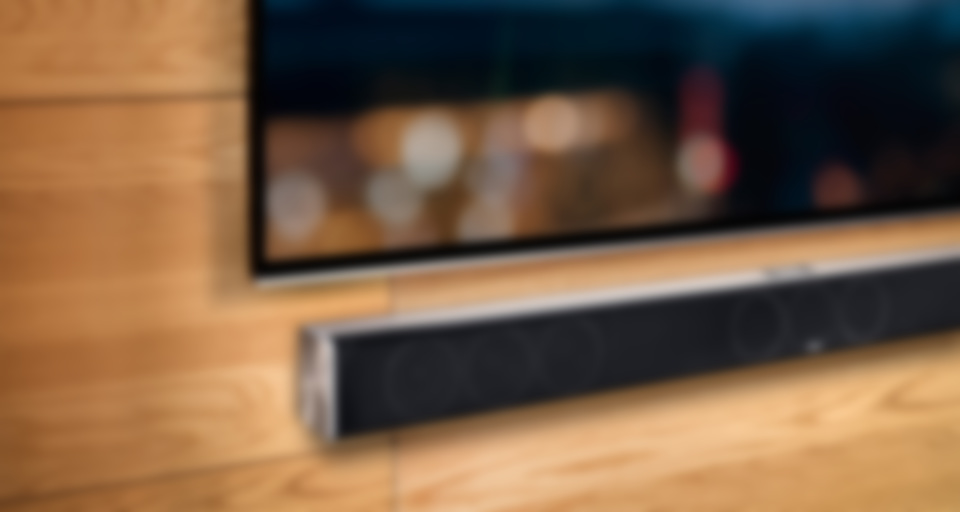 Why we love this product
The Cinebar Trio is a modular system for those who want it all, in as small a format as possible. The complete 3.1 soundbar / subwoofer combination can even be expanded into a 5.1 system with the addition of wireless rear speakers.
Key advantages at a glance
Plug-and-play 3.1 soundbar with flat wireless subwoofer
Integrated high-performance centre speaker for enhanced speech intelligibility
Wireless flat subwoofer can be placed under a sofa or even wall-mounted
465 Watt 2-way system uses a total of 12 drivers to create powerful and precise sound
Teufel Dynamore® Technology creates an immersive soundscape
Can be expanded into a 5.1 system with additional wireless rear speakers
Bluetooth 4.0 with aptX® & NFC for CD-quality wireless music streaming
Can be controlled with a standard TV remote, installs in seconds, includes integrated wall mounts
Features
All technologies at a glance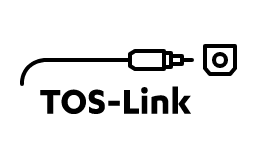 Icon - digital audio input - optical TOSLINK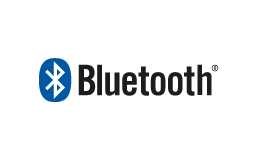 Streame Musik kabellos vom Smartphone, PC, Notebook oder iOS- bzw- MAC-OS Gerät auf den Lautsprecher. Videoton wird Lippen-synchron übertragen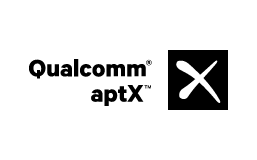 Bluetooth aptX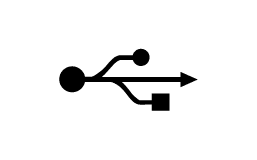 USB-Schnittstelle<br><br>Hinweis: Funktionsumfang der Schnittstelle kann je nach Produkt variieren. Nähere Infos zu diesem Produkt auf der Webseite oder in der Anleitung.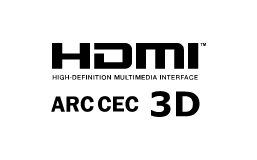 HDMI-Anschluss mit 3D-Unterstützung sowie ARC (Audiorückkanal) und CEC (Steuerung mit der TV-Fernbedienung)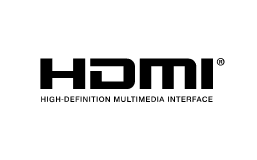 HDMI-Anschluss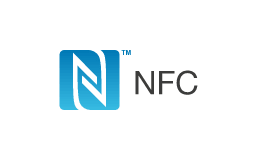 NFC enables a simple connection of two Bluetooth devices without complex pairing.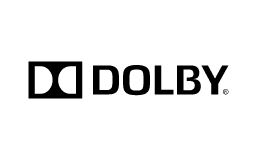 Unterstützt das klassische Dolby Digital Surround Tonformat, welches auf DVD oder Blu-ray gespeichert ist.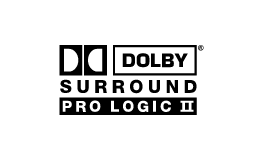 Dolby Pro Logic II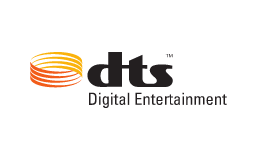 DTS Digital Surround: DTS is a multi-channel sound variant for playing DVDs or Blu-rays with a maximum of 6 soundtracks for a sound channel allocation of 1.0 up to 5.1 surround. However, this DTS variant does not support the DTS HD Audio codec.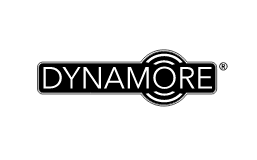 Dynamore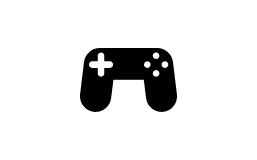 Für Spielekonsole wie Playstation, Xbox oder Nintendo geeignet.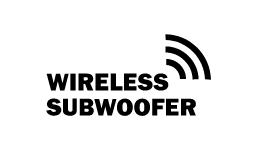 Wireless subwoofer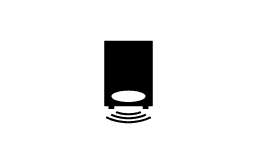 Downfire-Subwoofer. Der Tieftöner ist zum Boden hin ausgerichtet.
Serious sound
No other TV sound system in this price class offers a full 3.1 sound system in two easily installed devices. No other soundbar offers this level of clear, powerful sound thanks to the following:
2-way system reproduces warm, detail-rich sound, 465 watt power output for filling even larger rooms with sound
Authentic 5.1 surround sound with wireless rear speakers

Dynamore® Technology creates an especially broad soundstage
Extremely broad dispersion angle reaches every listener in the room
Intelligent design cools without fans for noiseless operation
Dynamore
Teufel's signature, Berlin-developed Dynamore technology offers astonishing room-saturating audio with no negative sound coloration. Virtual Surround has never sounded this good!

SubConnect MOD
This SubConnect MOD is for use with the T 4000 subwoofer or S 6000 Subwoofer and CoreStation A/V receiver or DecoderStation 6 or Subwoofer Wireless Transmitter (connects to the line out of third party amplifiers). The MOD is simply plugged in to a dedicated slot it the back of a T 4000 or S 6000.

Initial connection of the subwoofer MOD to a CoreStation/DecoderStation 6/Subwoofer Wireless Transmitter can be comfortably achieved using the CoreStation/DecoderStation 6 menu on your TV. Once paired, they will connect automatically when turned on and within 10 meters of each other.

Facilitates fast and space-saving placement of subwoofer systems in your home. Lossless signal sends clean, precise bass with high fidelity pulses.

For the SubConnect wireless module, you'll need:

1. T 4000 flat subwoofer or S 6000 active subwoofer
2. CoreStation or DecoderStation 6, or Subwoofer Wireless Transmitter plugged into an AV receiver

Included components
Cinebar Trios "3.1-Set"
1 × SubConnect MOD – black version
1 × Soundbar CS 42 – Titanium

1 × Power cable – Black
1 × table stand for Soundbar CS 42 – Black
1 × Remote Control CS 42 RC – silver

1 × Subwoofer T 4000 SW (without wireless module) – Black
Specifications
SubConnect MOD

Wireless module for the T 4000 flat subwoofer and S 6000 SW


| | |
| --- | --- |
| Width | 6,4 cm |
| Height | 2,4 cm |
| Depth | 9 cm |
| Weight | 0,08 kg |

Soundbar CS 42

High-class 3.1 soundbar

| | |
| --- | --- |
| Width | 115 cm |
| Height | 9,3 cm |
| Depth | 9,8 cm |
| Weight | 6,5 kg |

| | |
| --- | --- |
| Bass driver output | 1 |
| 3.5mm stereo in | 1 |
| Digital inputs optical | 1 |
| Bluetooth | Yes |
| Bluetooth aptX | Yes |
| USB 2.0 | Yes |
| HDMI 3D ARC CEC‌ | Yes |
| Video outputs - HDMI | 1 |
| Video inputs- HDMI | 1 |
| NFC | Yes |
| HDMI Version | 1.4b |

| | |
| --- | --- |
| Dolby Digital | Yes |
| Dolby Pro Logic II | Yes |
| DTS Digital Surround | Yes |
| DTS NEO:6 | Yes |
| Dolby Pro Logic | Yes |
| Dynamore® | Yes |

| | |
| --- | --- |
| Integrated DSP | Yes |
| Display | Yes |
| Power supply voltage | 230 V |
| Automatic on/off | Yes |
| Maximum power consumption | 225 W |
| Safety class | 2 |
| Storage for settings when disconnected | Yes |
| Standby-Function | Yes |
| Standby-Power consumption | 0,4 W |
| Power output capacity impulse (peak) Satellite | 55 W |
| Amplifier configuration | 3.0 |
| Amplifier technology | Class D |
| Amplifier channels | 6 |
| Audio-Digital-Analog-Converter | 24 Bit/96 kHz Cirrus Logic |
| OSD | Yes |
| Power output capacity sinus (RMS) Satellite | 75 W |

| | |
| --- | --- |
| Enclosure material | Aluminum |
| Enclosure surface | Brushed aluminium |
| Net internal volume | 7 L |
| Keyhole plate mounted | Yes |
| Integrated stand | Yes |
| Wall mounting brackets | Yes |
| Tweeter (number per enclosure) | 3 |
| Tweeter (diameter) | 20 mm |
| Tweeter (material) | Silk |
| Midrange driver (number per enclosure) | 6 |
| Midrange driver (diameter) | 77 mm |
| Midrange driver (material) | cellulose |
| Continuous power handling (IEC - Long Term) | 45 W |
| Frequency range | 130 - 20000 Hz |
| Peak power capacity (IEC - Short Term) | 60 W |
| Maximum sound pressure level | 104 dB/1m |
| Acoustic principle | 2-way-system |
| Enclosure type | Closed |

| | |
| --- | --- |
| Remote control | Infrared |

Subwoofer T 4000 SW (without wireless module)

A flat subwoofer designed to be placed on a wall or under a sofa or television. A 35 Hz low end ensures ample amounts of bone-shaking Teufel bass.

| | |
| --- | --- |
| Width | 95,5 cm |
| Height | 12,5 cm |
| Depth | 30 cm |
| Weight | 13,2 kg |

| | |
| --- | --- |
| Cinch input stereo | 1 |

| | |
| --- | --- |
| Power supply voltage | 230 V |
| Automatic on/off | Yes |
| Mains cable - IEC connector (non-heating device) | Yes |
| Safety class | 2 |
| Fuse | Yes |
| Storage for settings when disconnected | Yes |
| Standby-Function | Yes |
| Standby-Power consumption | 0,4 W |
| Input gain adjustment | Yes |
| Frequency regulator (range) | Yes Hz |
| Phase control | Yes |
| Wireless Subwoofer | Yes |
| Power output capacity sinus (RMS) Bass | 150 W |
| Power output capacity impulse (peak) Bass | 240 W |
| Amplifier configuration | 1.0 |
| Amplifier technology | Class D |
| Amplifier channels | 1 |

| | |
| --- | --- |
| Lowest frequency (-3 dB) | 35 Hz |
| Suitable for AV receiver | Yes |
| Downfire | Yes |
| Enclosure material | MDF |
| Enclosure surface | Lacquer, matte + laminate |
| Integrated stand | Yes |
| Woofer (number per enclosure) | 3 |
| Woofer (diameter) | 130 mm |
| Woofer (material) | cellulose |
| Frequency range | 35 - 200 Hz |
| Maximum sound pressure level | 102 dB/1m |
| Acoustic principle | 1-way-system |
| Enclosure type | Bass reflex |